TSMC starts taping out the design for the 10nm Apple A11 chipset?
26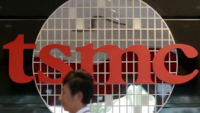 According to industry sources, TSMC has started the process of designing the A11 chipset that will power the 2017 iteration of the Apple iPhone. If everything remains the same and Apple continues to use a two-year cycle with its smartphone, the A11 will be found under the hood of the Apple iPhone 7s and Apple iPhone 7s Plus.
The Apple A11 SoC will be made using the 10nm FinFET process. The industry sources say that TSMC will have its 10nm process certified during the fourth quarter of this year, and will deliver samples to customers during the first quarter of 2017. As for the A11, TSMC could produce a small number of chips during the second quarter of 2017. Revenues from A11 sales should start flowing into TSMC's coffers in the third quarter of next year..
While
TSMC is rumored to be manufacturing 100% of the A10 chipsets produced
, the industry sources say that it will be responsible for two-thirds of the A11 production. The name of the other A11 chip manufacturer was not disclosed, although it most likely will be Samsung.
source:
Digitimes