TSMC confirms it will fully meet 28nm chip demand in Q1 2013, 20nm going ahead of schedule
6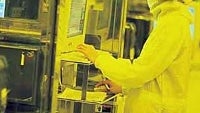 Taiwan Semiconductor Manufacturing Company (TSMC) is the world's biggest semiconductor foundry, and when it confirms that 28 nanometer chips will come very close to meeting demand in the last quarter of 2012, you know this could mean trouble for phone vendors. TSMC said that it will have its lines fully loaded and struggling to meet demand for the new 28nm silicon in Q3, come close to meeting demand in the last quarter of the year and fully meet demand in the first three months of next year.
The foundry's chairman and chief executive Morris Chang admitted that TSMC failed to rightly estimate demand for 28nm chips this year, and that's why it couldn't meet demand initially.
This effectively means that handsets based on Qualcomm's Snapdragon S4 chip, the first mobile solution built using 28nm technology, will be in low supply by 2013.
But TSMC is moving to fix that by extending capital expenditure by some $8 to $8.5 billion.
Also, TSMC said it's
boosting production of 20nm chips
, and that it's going ahead of schedule.