T-Mobile subscribers will once again enjoy a free Frosty this coming Tuesday
1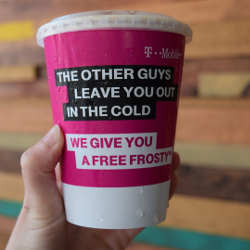 Tuesday will be here before you know it. For T-Mobile subscribers, this is a very special day of the week because it means that they receive the weekly freebies arranged for them by T-Mobile. For example, this coming Tuesday brings back a free small Frosty from Wendy's. If you can't get to Wendy's for one reason or another, you can call ride-sharing service Lyft to get a free ride valued as high as $15. That should be enough to cover a round trip back and forth to your home while making one stop at Wendy's to pick up your Frosty. And valid this Tuesday only, T-Mobile is giving you $2 toward the price of a movie ticket.
This week's grand prize for the weekly contest is a trip for the winner and three adult friends to Las Vegas. A check for $2,793 comes with the prize to be used for taxes or for the slots. The prize includes air travel, two double occupancy rooms for two nights, $1,000 in spending money, four concert tickets valued up to $800, and four Lyft credits valued at $250 each. The trip must be taken before July 1st, 2017.
First prize winners (there will be 50) will receive a $200 Lyft credit, and $200 in cash. Second prize winners (250 of them there will be) get $50 in Lyft credit, and $50 in cash. Overall, 201 people will be a winner and the total value of all of the prizes amounts to $44,193.
source: T-Mobile