T-Mobile finally updates the Samsung Galaxy Note 4 to Android 6.0 Marshmallow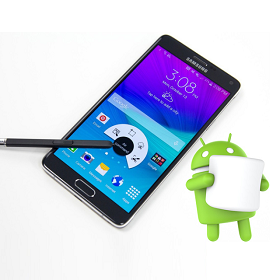 T-Mobile is now updating the
Samsung Galaxy Note 4
, a phone that many refer to as the best phablet of 2014, to Android 6.0 Marshmallow.
Once you've installed the update on your phablet, the Note 4 will be running software version N910TUVU2EPE3. Note that the update measures 1.5GB in size, and you'll be forced to download it over a Wi-Fi connection.
The new software update includes all of the usual Marshmallow goodies such as granular (individual) app permissions, the new battery-saving Dose mode, as well as Google Now on Tap. The update will also get rid of Instagram and WhatsApp as preinstalled app, introduces an advanced power saving mode, and adds a "vibration pattern concept".
As with all OTA rollouts, not all T-Mobile subscribers rocking the Note 4 will get their slice of Marshmallow at the same time. You can manually check for the availability of the update by heading over to Settings > About device > Software Update.
If you're wondering who is to blame for this delayed Android 6.0 Marshmallow update for the Samsung
Galaxy Note 4
, then know this: the international version of the Galaxy Note 4 started receiving its Android 6.0 Marshmallow update in early 2016, Sprint rolled out the Marshmallow update for the Note 4 back in March, and Verizon followed suit in early June. As any Verizon subscriber can tell you, when Verizon starts pushing out a major Android update earlier than your carrier, then you know that something is wrong. AT&T is now the only major carrier in the US that has not updated its specific version of the Galaxy Note 4 to Android 6.0 Marshmallow.
What do you guys make of this? Is anyone disappointed that T-Mobile took so long to update the Samsung Galaxy Note 4 to Android 6.0 Marshmallow?