T-Mobile announces myTouch as the next Froyo phone on its expanding HSPA+ network
4

T-Mobile officially put a page up for its upcoming second HSPA+ handset. The
T-Mobile myTouch
will be an HTC-designed Android 2.2 phone with a 3.8" WVGA screen, powered by the
next generation
1GHz Snapdragon chipset - MSM8225. Since the chipset is the most powerful Snapdragon on a phone currently, it is worth noting that the manufacturing process is 45nm, which makes for blazing speeds on comparable battery life.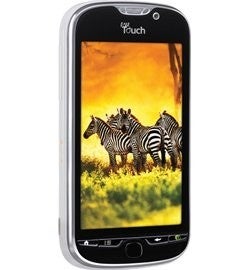 The benchmark Quadrant scores of this same chip in the
HTC Desire HD
is 1974, which is very quick, partly due to the capable Adreno 205 GPU. NotGalaxy S-after-the-XDA-fix fast, but faster than stock
Galaxy S
with Android 2.1, and impressive nonetheless. Given the fact it is running Froyo, and we've reviewed Android 2.2 running perfectly smooth on the 600MHz chipset of the
Samsung i5510
, we don't expect any hiccups in the interface. T-Mobile myTouch is quoted for 6hrs of talk time.
The handset comes with a 5MP camera with LED flash, and features Video Chat through the front-facing camera, working both via Wi-Fi, or via T-Mobile's 3G/HSPA+ network. Real-time HD video share or broadcast is also made easy with the touch of a virtual button. The phone features probably the best voice recognition software currently - Dragon Dictation from Nuance - for dictating text messages, calling or accessing the web with the touch of an exclusive physical Genius button. Of course, you can always use Swype for typing, as it comes standard on the phone as well. The phone will ship with a few HD games out of the box - Rock Band, Asphalt 5, and Monopoly, which makes it an even more compelling package.
The T-Mobile myTouch will be available for the holidays - rumors are for
beginning of next month
, and will be
offered in four colors
- white, black, plum and red - with an 8GB microSD card included in the retail package.
In the same press release, T-Mobile announced the expansion of its HSPA+ network to more cities, so now you can grab your
T-Mobile G2
or myTouch, and enjoy up to 14.4 Mbps speeds also in:
Biloxi and Gulfport, Miss.; Denver, Colo.; Huntsville, Ala.; Knoxville, Tenn.; Myrtle Beach, S.C.; Norfolk, Va.; Omaha, Neb.; Phoenix and Tucson, Ariz.; Salt Lake City, Utah; San Francisco, San Jose, Oakland and Sacramento, Calif.; and West Palm Beach, Fla.
Very exciting handset, and we can't wait to get our hands on a review unit for testing those HD video share and Video Chat features, as well as the voice recognition software behavior on the new Snapdragon. Which one would you get if you are on T-Mobile - the QWERTY
G2
, or the myTouch?
T-Mobile myTouch Specifications
T-Mobile G2 Specifications
source: T-Mobile