T-Mobile and Orange in the UK to be fully rebranded to EE by the end of the month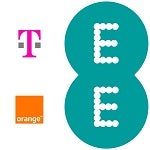 All 700 T-Mobile and Orange stores will have the new branding by the end of the month, and perhaps many of you have already seen the Everything Everywhere stores with the new logo.
EE has been well underway training 12,000 staff and other partners about the brand and the vision being sought with the new look. EE also provided a preview to the employees of what the remodeled retail locations would look like. The bigger store locations will have refreshments, free Wi-Fi and dedicated handset displays by operating system.
Rate plans with the new brand have not been released, but existing customers will be able to buy 4G compatible handsets now if they choose and move to the new plans when they become available.
Many users in the UK may have already noticed the network branding on their handset make the change already.
source:
Mobile News CWP