T-Mobile CEO John Legere learns meaning of Instant Karma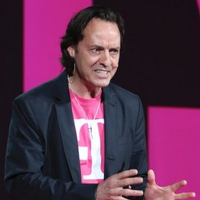 T-Mobile CEO John Legere has had it in for AT&T for some time. At CES 2013,
he called the AT&T network "crap"
. So when the Air Conditioning failed during Game One of the 2014 NBA Finals at the
AT&T Center
in San Antonio, Legere quickly hit his Twitter account. "
It's bad enough when you can't power a network, but now you can't power the AC during the finals?!?!
" Obviously, it was a tongue-in-cheek comment from the pro-consumer executive. AT&T pays to have its name on the building, and has nothing to do with the the AC at the arena.
But the executive found out that what goes around, comes around. By Friday morning, there was talk that T-Mobile's network was experiencing problems, forcing Legere to send out a tweet explaining how T-Mobile was dealing with a nationwide problem on its pipeline. Eventually, the problem was repaired.
Will this bit of Instant Karma stop T-Mobile's top executive from using his wit against the competition (especially AT&T) in the future? Don't count on it.
source:
CNET
via
AndroidAuthority