T-Mobile: Astros fans love social media while Dodger fans like to stream video
3
The 2017 World Series has gone back and forth, a pitcher's duel one game, a slugfest the next. And the Houston Astros, who just a few short years ago lost more than 100 games for three consecutive seasons, are one win away from their first title. But that isn't the important thing. What is important is how the fans in each of the two cities used T-Mobile data on their phones while sitting in the stands during the games.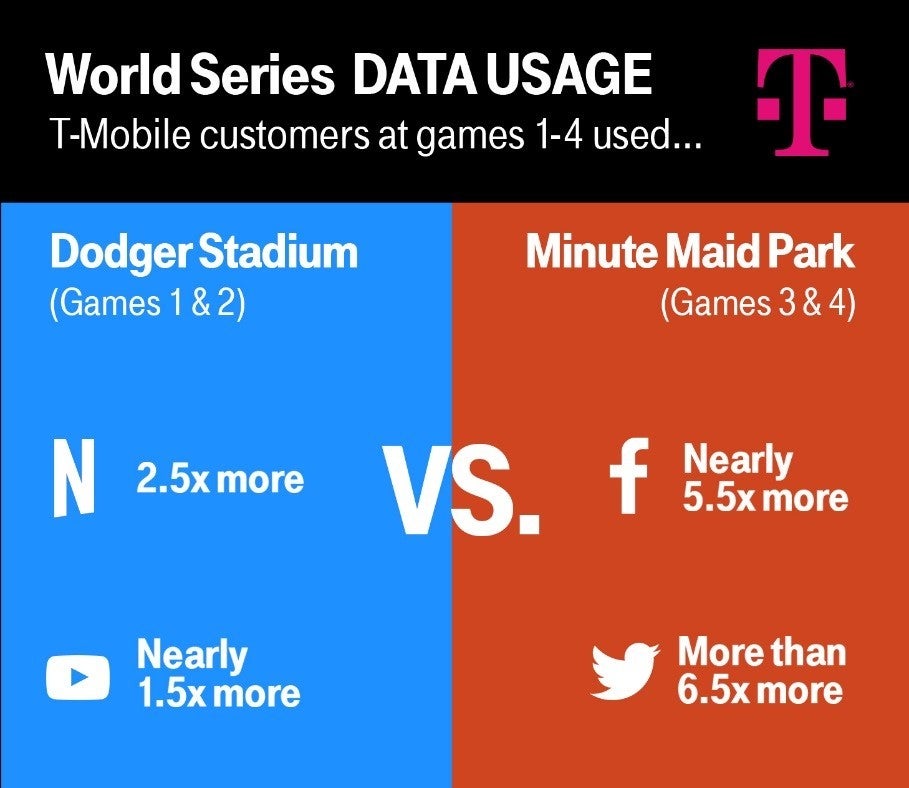 What T-Mobile customers did with their data while in the stands for the first four games of the World Series
L.A. fans, perhaps due to the city's close proximity to movie and television studios, used Netflix 250% more in Dodger Stadium during games 1 and 2, than Astros fans did during games 3 and 4 at Minute Maid Park. And maybe for the same reason, Dodger fans streamed video over YouTube from the ball park in Chavez Ravine close to 150% more than the Houston faithful did during the next two games in Houston.
At Minute Maid Park during games 3 and 4 of the Series, Astros fans displayed their love of social media. They used Facebook almost 550% more than Dodger fans did in L.A., and employed Twitter more than 650% as much as the L.A. fans did back on the left coast.
Keep in mind that this data is based on those T-Mobile users who were sitting in Dodger Stadium during games 1 and 2, and T-Mobile users sitting in Minute Maid Park during games 3 and 4. With game 6 and game 7 (if needed) back in L.A. Tuesday and Wednesday, we should see the stands full of Netflix and YouTube viewers once again.
source: T-Mobile