T-Mobile hops on Apple's Daily Cash train, gives you 3% back on all purchases
0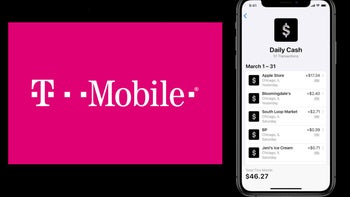 Earlier this year Apple's walled garden got a new corner. The company
released a physical credit card
that you can use either with Apple Pay or just as a regular card at places that don't accept Apple Pay. One of the incentives the new card offers is what Apple calls Daily Cash, which is the name of its cashback program.
Daily Cash comes in three tiers: 1% for any purchases made with the card but without using Apple Pay, 2% for all Apple Pay purchases and 3% for purchases from all Apple stores, both physical and online, including the App Store and iTunes. The 3% Daily Cash is also available when using the card with other companies that have partnered with Apple such as Uber and Walgreens. Now, there's a new partner added to that list: T-Mobile.
T-Mobile just announced
its partnership with Apple and that it's the first wireless provider to strike a deal with the tech giant for a 3% Daily Cash at its locations. Of course, that's valid only for Apple Card holders that pay through Apple Pay. The cashback will be applicable for all products sold in T-Mobile stores, not just those made by Apple.
The move shows that Apple isn't done expanding its network of partners and we can expect other big names to join the program. While 3% is not exactly a huge amount but if you can get that from places you frequent it will pile up to a nice chunk of cash over time.