Survey shows that Apple's iPad is the most wanted Valentine's Day gift in the UK
14

According to a survey conducted by Play.com - one of the largest online retailers in the UK - Apple's iPad (any model) is the most desired Valentine's Day gift among British adults this year. The survey gathered answers from 1,000 respondents across the UK.
Apple's tablet tops a list that also contains flowers, jewelry, a laptop, and Sony's PlayStation 4 as desired Valentine's gifts. Interestingly, it's said that adults aged 55 or above want an iPad the most, while 18 to 24 year-olds would rather receive flowers.
Although the most wanted gift is the iPad, the most expected (and the most likely to be received in the end) turns out to be chocolate, while flowers and clothes complete the top three on the list of expected gifts.
We don't have data to back this up, but we're pretty sure that the iPad, as well as Android tablets, are also desired Valentine's Day gifts not just in the UK, but all over Europe and in North America. A new smartphone could also be a nice present, and, in case you're looking for one that's dressed in pink, you should check out
our Valentine's Day suggestions right here
.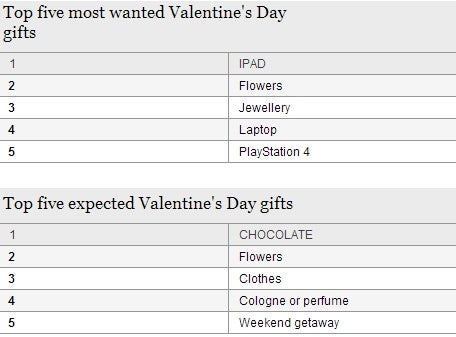 source:
The Telegraph