Stocking stuffer alert: Grab a Chromecast from Google Play for $25, plus get 2 months of Hulu Plus and more
11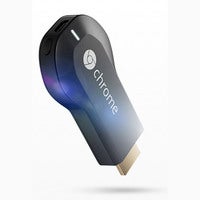 There are two parts to this deal, well three parts really. First is the sale price of
Google Chromecast
which is good through Cyber Monday, making the dongle an even better deal than it already was at $25.
Next up in the holiday promotion is the freebies you get with Chromecast if you buy it and set it up before the end of the year. One familiar promotion is three months of free Google Play Music streaming, after that, the unlimited music streaming subscription is $9.99 per-month.
New to the list of promotions is two months of free Hulu Plus that is included if you buy and set-up the Chromecast before New Year's Eve. After that, Hulu Plus has a subscription price of just $7.99 per-month.
The promotions are not just limited to Google Play, though they are all limited to the US. Just like you would hear in a late-night TV ad, "but wait, there's more," if you happen to buy your Chromecast from either Costco or BJ's Wholesale Club, you can also get a $10 credit toward a movie rental on Google Play.
When you add up the value of the monthly services and promotional credits involved, the Chromecast is essentially free. The Chromecast may be well into its second year as a product, but it still remains as probably
the best value out there
for any type of multi-media accessory. It is super-easy to set-up, and using it is equally as simple as controlling your iPhone or Android powered device.
source:
Google Play