Chromecast hands-on and demo
25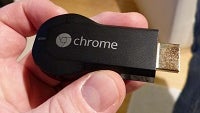 While we were pretty much fully informed about the announcement of the Nexus 7 and Android 4.3 at Google's media event today, Chromecast was indeed a nice little surprise. Chromecast is another way to bring online content to the entertainment center of your home, which for many people is the television hooked up to high-end surround sound equipment.
Chromecast is not a replacement to Google TV, it is simply an alternative to bring all sorts of great media to the family room though, and at
only $35
, not only is it appealing for your own home, it makes an easy gift idea for family and friends (a perfect stocking stuffer right?).
Chromecast does not require a remote, only configuration with your router and once that is complete, your iOS or Android device can do the rest of the work as well as any Chrome browser (Mac, Windows or Chromebook Pixel). One thing that you need to know is that
you are not channeling content from your device
to your TV. Instead, you are directing Chromecast where to grab the media directly and that not only allows for full HD video delivery, but also saves the battery on your smartphone, tablet or laptop.
All you do is plug it in, connect Chromecast to Wi-Fi and start cast content. Three steps and yes, it is that easy. Another cool part about this is that since Chromecast handles the media connectivity, this allows you to continue using your smartphone or tablet for other work, multitask away with email or phone calls.
At $35, Chromecast is a pretty easy buying decision and its integration with apps most people use every day like YouTube or Netflix is already in place, plus it is in beta for the Chrome browser, so the internet is at your TV's doorstep. A lot of other media providers are developing it for their apps as well so you are sure to find more and more venues to use it with.