Steve Ballmer departs Microsoft's Board of Directors
18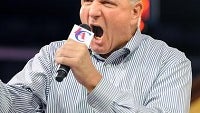 The
new owner of the Los Angeles Clippers
is stepping down from the Board of Directors of Microsoft. In a letter to the Board, Ballmer cited the need to be able to concentrate on the Clippers, as well as "civic contribution, teaching and study." He is going to be teaching at University of Southern California's Marshall School of Business in the spring of 2015.
All these new activities would not afford Ballmer the time he felt would be needed to stay up-to-date with all the things going on at Microsoft.
He still has a considerable stock holding with Microsoft, he is the largest individual shareholder, and that will not change. Plus, the legacy he left from being the chief executive of the company for 14 years will linger for a long time, even with Satya Nadella heading things up and administering some
significant restructuring plans
.
Still, Ballmer's departure from the Board does create a bit of a clean slate, and while he will not be serving the company he worked at for over three decades in any official capacity, he said he would continue to take interest in Microsoft's future, "I bleed Microsoft — have for 34 years and I always will. I continue to love discussing the company's future. I love trying new products and sending feedback. I love reading about what is going on at the company. Count on me to keep ideas and inputs flowing."
Look for some of his ideas to make their way into the way of life for the LA Clippers, the players and the fans alike, as he settles into his new venture.
source:
Los Angeles Times