Former Microsoft CEO Steve Ballmer agrees to buy the NBA's L.A. Clippers for a cool $2 billion
24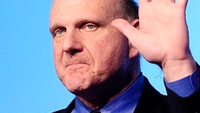 The L.A. Clippers will soon have a new owner, if everything goes according to plan. Former Microsoft CEO Steve Ballmer has signed an agreement with the Sterling Family Trust to purchase the team for $2 billion. The bid goes right to the NBA and does not require the approval of the team's current owner, Donald Sterling. On secretly recorded tapes, Sterling made racist comments that not only insulted his own team, but reverberated all the way to Miami where LeBron James reacted. ESPN is reporting that Donald Sterling was declared mentally incapacitated by experts, allowing his wife Shelly to sell the team without requiring her husband's approval.
Once Stering's comments went public, the NBA moved quickly, with commissioner Adam Silver forcing Sterling to sell the Clippers. Ballmer's $2 billion bid topped a $1.6 billion offer from music mogul David Geffen. Geffen's group has pulled out of the auction. Ballmer is said by Forbes to be worth $20.3 billion after a long stint as CEO of Microsoft from 2000 to 2014. The $2 billion price for the Clippers swamps the previous record purchase for an NBA team, which was the $550 million paid for the Milwaukee Bucks just this year.
The former tech executive is not expected to move the team from L.A., where it plays second fiddle to the Lakers. Still, the Clippers have the better team right now. In the midst of the uproar over Sterling's comments, the Clippers were eliminated in six games during the conference semi-finals by the Oklahoma City Thunder. The Lakers failed to even make the playoffs this year.
After news of the winning bid started to leak, sports celebrities like Magic Johnson and Pat Carroll tweeted their excitement and pleasure at having Ballmer own the team.

Magic Johnson tweets his happiness over Ballmer's winning bid
source:
ESPN