Sprint beefs up its network in D.C. prior to inauguration using COWS and more
14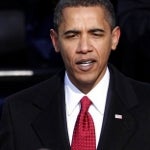 With the Presidential Inauguration coming up on January 21st, 2013, Sprint has been beefing up its network around the National Mall where between
600,000 and 800,000
are expected to attend. Considering that the media will be there with a ton of wireless gear including smartphones and tablets, you can understand why Sprint has been hard at work since April to boost service in the area. Since then, it has increased voice capacity by 25% and data capacity by 37% in the area around the Mall and the rest of Washington D.C.
Cellular On Wheel mobile units
that will be in place at the National Mall – including the Smithsonian National Air and Space Museum and the Smithsonian National Museum of Natural History. The units help "enhance the wireless experience" of those attending the festivities.
In addition,
in-building repeaters
have been installed at the Capital Hilton hotel, the Washington Marriott Wardman Park hotel, and The Mayflower Renaissance Washington DC Hotel. These units will help boot voice and data coverage for those staying at one of those locations, or attending one of the numerous parties to be held at one of those sites. To make sure that first responders can communicate in the case of an emergency, Sprint has its Emergency Response Team in place, coordinating with government officials and businesses.
Since the previous inauguration in 2009 and through 2011, Sprint spent $300 million to improve the wireless experience for its customers in the Washington D.C. area. Last year, Sprint started updating its service with its Network Vision, which is the carrier's program to install new 3G and 4G LTE service in certain areas. Network Vision is expected to launch in the Washington D.C. area sometime this year.
source: Sprint via
AndroidCentral