Spotlight: Flow Home Launcher simplifies and speeds up the Android experience
2

| | |
| --- | --- |
| Developer: Larva Labs | Download: Android |
| Category: Personalization | Price: Free (with in-app purchases) |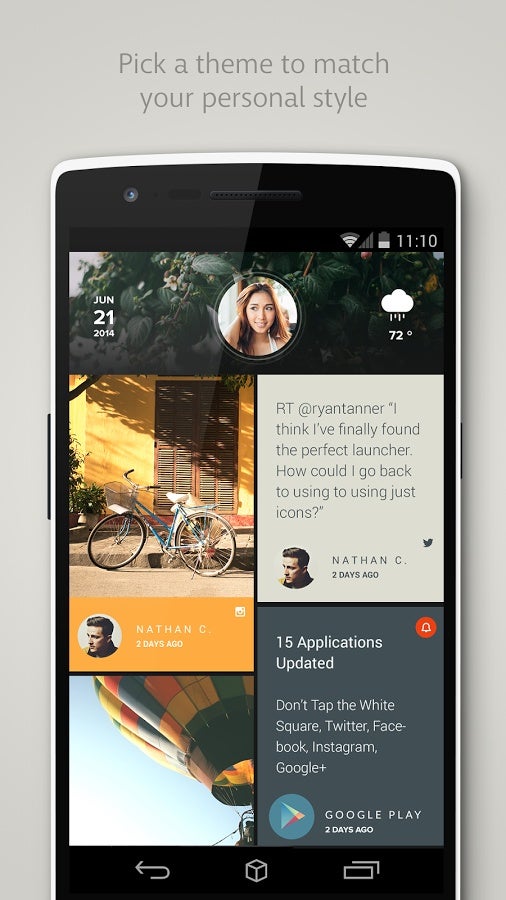 The sheer abundance of third-party Android launchers can make it quite hard for newcomers to stand out with anything innovative. Thankfully, with software user experience, there's always something to be improved, visuals to be revamped, and functionality to be polished further. This is how Flow Home Launcher differentiates from the pack — it's not exceptionally innovative or anything, being an assembly of tried and true concepts arranged to work as smoothly as possible. But the end result looks darn slick, while also being rich in information and very nimble in practical use!
What makes Flow Home tick? Well, the launcher plays the part of a "personal" home screen, one that's connected to your favorite social networks and uses the screen real estate to provide a dynamic content feed, built out of your Twitter, Tumblr, Feedly, Reddit, and Instagram profiles. One of the two initial home screens is reserved for the dynamic feed, which hosts a boxy layout that displays headlines inside what looks like a cross between Windows Phone's live tiles and a bunch of virtual sticky notes. Above that, you have your profile picture, and next to it, you can choose to have whatever widgets you want. The widgets can lead directly to apps — for example, the calendar widget will open the calendar app. There are also shortcuts to a widget chooser, theme changer, and a Settings menu.
Inside the Settings menu, you'll find a bunch of UI tweaks, such as setting custom wallpaper and profile images, enabling a left-handed layout, choosing a third-party icon pack, and even dabbling into some 'advanced design settings', such as setting the amount of image tint and the time (in milliseconds) it takes to fade in colors and images while scrolling. Moving further down, you will get to the 'Manage Services' menu that lets you connect and disconnect to social networks. You can also select the news feed's update frequency, give or take notification access, and choose the specific types of content you want served from the social networks you follow. Want only photos from Instagram? No worries, there's a toggle for that!
For a launcher that sources and displays so much data in real time, Flowhome is very quick and lightweight.
Exit the menu, swipe to the right, and you'll find the good ol' app drawer, in case you need it. But FlowHome offers an even smarter way to launch your favorite apps! Go back to the main home screen, tap the floating button to the rightmost bottom, and you'll open a shortcut menu designed to be fully accessible using just your thumb. Adding your favorite apps to it is as easy as long-pressing an app, and putting a checkmark next to 'shortcut'.
What feels especially impressive about using Flow Home is the speed with which the action happens. For a launcher that sources and displays so much data in real time, Flow Home is very quick and lightweight, which must owe to some good optimization! We also think Flow Home simplifies and speeds up the Android experience in a way that will seriously benefit the non-power user who wants their phone to feel easy, reliable and responsive.
Flow Home is free, but is also in beta state. To try it out, use the code
BETA20
.
Also read: