Spotlight: Cliffy Jump provides a different perspective on Crossy Road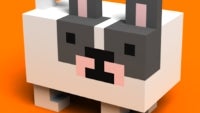 Let's get this out of the way - Cliffy Jump is basically Crossy Road, but the perspective is different and the levels are nothing like in the game you're familiar with. Blame publisher WeGo for ripping off Crossy Road all you want, but do remember that Crossy is basically a redone variant of a 34-year old game named Frogger.
With that out of the way, Cliffy Jump is jolly good fun! It features some impressive graphical effects and a mid-paced gameplay that requires just the right amount of concentration and effort to keep you challenged and interested. Cliffy is also super-cute with its adorable characters and levels that look like they're taken out of Minecraft and given a much welcome graphical polish.
Easy on the eyes and on the controls, Cliffy Jump includes hidden characters, up to 14 areas to explore, and a rank system. All you have to do is tap your way around the pits and spikes scattered across the different levels in an effort to reach 100% of each round. Collect all the coins you can and avoid falling in the water, for that's certain doom. Speaking of the water, it looks gorgeous in this game, even more so when juxtaposed against the 16-bit style graphics. Visual effects on mobile have definitely come a long way!