Sony Ericsson XPERIA Play comes with 6 games preloaded; others may cost up to $16
5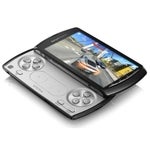 Sony Ericsson is not wasting any time and is working hard on
introducing
its first PlayStation-certified smartphone to the crowds of fans eager to get their hands on it. We also got our chance to
spend some time
up close and personal with the Sony Ericsson XPERIA Play and see what the fuss was all about. Will the gaming-centric smartphone be worth the gamers' time and will it live up to its image as a powerful gaming platform?
One might be curious about how much the supposedly superior XPERIA Play game titles will cost. Well, it was David Hilton, UK head of marketing for Sony Ericsson, who shed some light on the issue in a recent interview and hinted towards prices from around
$2
for the more basic casual games up to roughly
$16
for the epic titles with complex gameplay and eye-pleasing graphics. Just bear in mind that around $16 is what the low-tier PSP games run for.
According to Mr. Hilton, 50 titles will be available for download upon the XPERIA Play's launch, some of which timeless PS one classics for the enjoyment of all nostalgic PlayStation fans out there, and the game catalog is expected to grow over time. In addition to the 50 downloadable games, 6 more will come bundled with the device – Fifa 10, Crash Bandicoot, The Sims 3, Star Battalion, Bruce Lee Dragon Warriors, and Tetris.
How many of you gaming fans are willing to drop $16 for a game that you will play on your smartphone? A few? Or would you do so if the games turn out to be worth their price tag? Feel free to share your opinion with us in the comments below!
source:
MCV
via
Joystiq