Games for the Sony Ericsson XPERIA Play bring us back to the Playstation's early days
3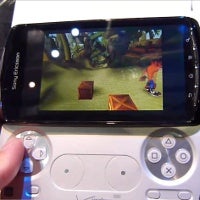 Last month, we got the opportunity of first checking out the
Sony Ericsson XPERIA Play
at MWC, but now at CTIA 2011, we're getting a chance to see some of the games that will grace the gaming centric handset.
Using a Verizon branded XPERIA Play at Sony Ericsson's CTIA booth, we booted up a few games to see exactly the kind of
gaming experience
it'll provide. For those familiar playing titles from the original Sony PlayStation console, you can expect to see visuals that closely remind us of the once prevalent console on the XPERIA Play. Unlike finding graphics rivaling those found with modern console, some games for the XPERIA Play are rather blocky in nature – which is most evident with the football players in
Madden NFL 2011
.
Granted that titles like
Asphalt 6
and
Bruce Lee Dragon Warrior
might come close to producing PlayStation 2 like graphics,
Crash Bandicoot
is one title that's a perfect port of the original PlayStation game from long ago. For the most part, games run at a moderate rate, but it doesn't quite have the silky smooth look to exhibit a responsive experience. Come to think about it more, there are some gaming titles in the Android Market that easily compare to the games for the XPERIA Play.
Despite not embodying the graphical prowess that's gracing some modern portable gaming consoles, the introduction of hardcore gaming with the rich features of Android should enable some people to take a liking for the new handset. Obviously, as developers become more attuned in creating games for the handset, we'll undoubtedly see some visually impressive games down the road. Check out some of the games running on the handset below.