Snapdragon 820 benchmarks, Apple's Smart Battery case and the S7 chassis: weekly news roundup
8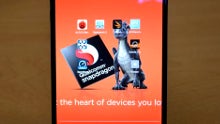 Once again, it is time for our weekly news round-up, where we put the most interesting stories from the past seven days for anyone who needs to catch up.
Qualcomm finally lifted the veil over its much-rumored next generation flagship processor, the Snapdragon 820, and said that there are no less than 60 phone and tablet designs with it that will pop up next year. One of these devices is said to be Samsung's upcoming Galaxy S7, so when Qualcomm released its reference platform with Snapdragon 820 for testing last week, our ears perked up like those of a fennec on a desert morning.
Apple also chipped in last week, releasing a Smart Battery case in its online store comes with a 1,877mAh embedded battery inside, which provides up to 25 hours of additional talk time, 18 hours of web browsing on LTE, or up to 20 hours of video playback. While almost doubling your battery life, it ran into some design brouhaha, but more on that in the weekly news roundup in the slideshow below.