Snapchat beta for Android gets video messaging
2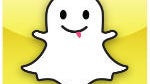 Like all things Snapchat related, this release is on a detonation timer, so if you want in, jump down to the source below right away, because the beta release of Snapchat for Android with video messaging built in will disappear at 2AM PST (5AM EST). This is a feature that's been on iOS for a couple months now, but it's a first for Android.
If you don't know already, Snapchat has made its name for offering privacy by way of self-destruction. Text messages and images can be sent to contacts, but the message disappears after anywhere from 1 to 10 seconds. And, word has it that the app will notify the person who sent you the message if you attempt to take a screenshot in order to save the message.
Video messages are limited to just 10 seconds in length, and carry the same 1 to 10 second self-destruct option.
If you want to get in on the Android beta with video messaging, you can grab it
here
, just remember that the beta will disappear in a few hours. Otherwise, you can head to the
Google Play Store
for the stable version of the app.