Smartphone sales soar 43% to a record 60 million in Q2; Apple's shipments rise 61%
This article contains unofficial information.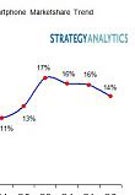 Despite an economy that is not exactly surging, smartphone sales set a record of 60 million units sold in the second quarter. There are many reasons behind the strength in sales. For one, prices have been dropping as subsidized prices bring top of the line models down to affordable prices. While Apple shipped 8.4 million iPhones in the period for an impressive 61% year over year increase, marketshare is declining. Apple owned 14% of the smartphone pie in Q2, lower than 4 previous quarters over the past 2 years. The Cupertino based firm peaked at 17% and Strategy Analytics states that it believes that the only way for Apple to increase its marketshare is to sign up other carriers in the U.S. (extending the exclusivity pact with AT&T), Japan and China. The metrics firm also had some harsh words about Apple's reputation, which has apparently has gone through some tough times during "Antennagate", and said "The honeymoon period for Apple in the mobile world is clearly coming to an end. We believe Apple may have lost some heartshare in recent weeks because of its perceived mishandling of the antenna problem."
source:
MocoNews