Small maintenance update being rolled out for the Samsung Moment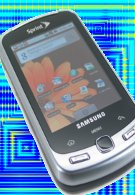 Yesterday seemed to be the day of software updates rolling out, but today we are greeted with yet more news about another Android powered handset being issued a software update. The Samsung Moment had its shot in the spotlight a while ago, but steadily declined in interest when a host of high-powered Android sets hit the market.
However, that's not stopping it from receiving a healthy OTA maintenance update that brings forth some improvements – which should be good news to current handset owners. The update essentially fixes the airplane mode issues, fixes the Skyfire web browser power cycle issue, and it even adds a Select All option to Bulk Bluetooth contact push.
Yeah, they're some minor things, but we'd imagine that users will be more than appreciative to see that Samsung is still concerned about its customers. Actually, the OTA update started to roll out yesterday, but should encompass everyone over the next few weeks – so stay tuned for it.
Samsung Moment Specifications
|
Review
source:
Sprint