Skyward is amazing one-tap Monument Valley offshoot with Escher graphics and high scores
4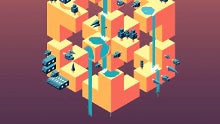 With intricate Escher-style labyrinths, that may or may not be inspired by the mesmerizing
Monument Valley
, the new Skyward game for iOS and Android offers a different enough twist not to be considered a clone.
The basic premise is to lead two colored circles with single taps through an ever increasing complexity of the upward labyrinths that draw on Monument Valley-style graphics drawn as the optical illusions of M. C. Escher. Don't get us wrong, Skyward offers a rather different gameplay when you think of it, as you have to move the circles with a tap on to the next possible structure, yet do it fast enough so that the rotund thingys don't get smashed and disappear somewhere between the ever-expanding structures and obstacles.
If you are nimble enough, you can tap the circles all the way to power-ups that would slow the rotating structure, extend its radius, or completely change the direction. The ultimate goal? Well, it's not to just pass through beautiful levels, Monument Valley style, but to reach a good ol' high score, drawing you further and further into its unorthodox gameplay for hours on end, competing against yourself. Don't expect the Valley's soundtrack, though, and that's the only thing the developer should be improving on in the next Skyward editions.