Skyfire gets updated while Hulu exits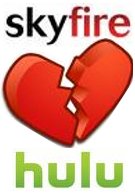 We all know and love the mobile web browsers out there that keep us connected with the world. Skyfire is especially near and dear to many because of its ability to emulate the desktop experience on a mobile device. Always improving its build, Skyfire is getting a significant upgrade to v1.0.0.12114 that will provide a reduced memory footprint, history and cookie improvements, more simple sharing via SMS, and better zooming. It's no wonder why it is one of the few browsers that will load up web sites like YouTube perfectly as it would on a computer.
In other news, it looks like the good times are over if you use Skyfire to watch clips on Hulu. Apparently Hulu has blocked out its content from the web browser, making it a more sad place now than ever. Word has it that it could be related to the Microsoft ad campaign featured on the site. Pocket Internet Explorer anyone?
via
Mobileburn
and
Engadgetmobile