Sharp brings current iPad screen production to a halt, to focus on this year's Apple tablet editions
7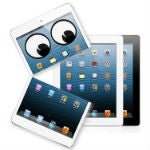 Sharp is again said to have almost
halted production of 9.7" displays for Apple's larger iPad
, as the first quarter of the year is traditionally very slow, and sales of the iPad mini for the sake of more expensive Apple tablets are increasing.
So far, so good, but the other reason cited for emptying the conveyor belts is that Sharp will be focusing on display production for the next iPad and iPad mini iterations, perhaps mastering its
superior IGZO technology
for mass production.
LG and Samsung are rumored to pick up the slack if Sharp can't supply enough panels for the this year's Apple tablet editions, and we are only left to wonder what the other improvements will be - IGZO has a pretty low comparative battery consumption, so increased stamina could very well be one nice feature. The
iPad mini 2
is said to introduce high-res display, so this is another one to look forward to.