Seidio Samsung Galaxy S III 3,500 mAh Innocell Battery and Desktop Cradle hands-on
25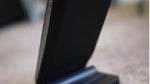 As we near the true start of the busy fall season, the smartphones of summer are doing whatever they can to still remain relevant. Throughout it all, we're absolutely certain that the
Samsung Galaxy S III
will continue to remain as a force to be reckoned with – so that's why we're constantly seeing a steady stream of accessories for the beloved smartphone. Already, we've checked out the
Seidio Active Case and Holster
for the handset, but this time around, we're getting a look at something that specifically targets power consumption.
Specifically, it's the
Seidio 3,500 mAh Innocell Extended battery and Desktop Cradle
that we're getting our hands on this time around. On one side, power users will appreciate the extra juice they'll get out of the beefy sized battery, which happens to retail for
$69.95
for the non-NFC one and
$74.95
for the NFC equipped version. Conversely, the Seidio Desktop Cradle for the Samsung Galaxy S III would make a nice addition to any bedroom nightstand – as it perfectly allows you to charge your smartphone nearby while sleeping. Sporting a price point of
$29.95
, it's also compatible with a wide-range of other Samsung smartphones – like the Samsung Skyrocket, Epic 4G Touch, Galaxy S II, Galaxy Nexus, Galaxy Note, Google Nexus S, and Google Nexus S 4G. Without further wait, let's take a quick peek at how these two accessories stack up.