Seidio Active Case and Holster for the Samsung Galaxy S III hands-on
11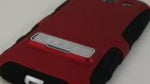 With the Samsung Galaxy S III selling at full steam, those picking it up are probably wondering what accessories they should purchase to keep the handset in pristine condition. Well people, if you're adamant about keeping the venerable smartphone in tip-top shape, you may want to check out the

Seidio Active Case and Holster

– mainly because the tandem provides the level of protection to ensure that it'll maintain its gorgeous appearance.



For those of you wondering, the Seidio Active Case by itself sells for

$34.95

, while the Holster packs on an additional

$29.95

– however, purchased together, it's discounted to $49.95. Indeed, the $35 cost associated to the Active Case alone might be perceived as rather expensive by most people, but it does off one additional feature that you don't tend to see with most cases, while at the same time, it provides some protection to ensure your handset will keep its good looks throughout the time you own it. With that, let's take a look at the two accessories from Seidio.