Security update for Moto Z and Moto Z Force Droid also fixes issue with notification volume
4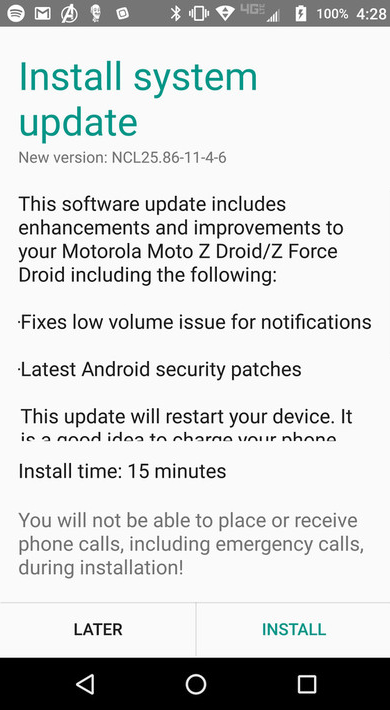 Software update is coming to the Moto Z Droid and Moto Z Force Droid
If you've been missing calls on your
Moto Z Droid
or
Moto Z Force Droid
, the problem might not be with your hearing. Both models have started to receive a software update from Verizon that includes the usual monthly security update. But if you look at the changelist, you'll also see that the update is supposed to fix a problem that has caused notifications (including the ringtone) to come out of the speaker too low to hear above the din of everyday life.
The good news is that those who have installed the update now say that their Moto Z Droid and Moto Z Force Droid have never been so protected from the warped minds of hackers. What about the notifications you ask? (Sorry, we didn't hear you). Yes, installing the update also took care of that issue. And no, we don't think that this was done on purpose to sell more JBL SoundBoost speakers.
Just a couple of quick reminders. When the notification comes alerting you that the update has arrived, make sure that you are connected to a Wi-Fi network before beginning the updating process. And you should also make sure that your battery is 100% charged (which on these two phones shouldn't take terribly long). Instead of waiting for the notification (you might not hear the sound anyway), you can see if your phone has received the update by going to
Settings
>
System updates
>
Check for system update
.
source: AndroidCentral
Recommended Stories