Scosche Rhythm Bluetooth Armband Pulse Monitor hands-on
0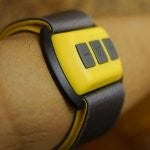 Considering that New Year's resolutions are still fresh on the minds of people, it's natural that many out there have pledged to get into shape. Despite the rush of excitement and motivation at the start, some people begin to fall off the wagon with their resolution as the days and weeks go on by. Thankfully though, the
Scosche Rhythm Bluetooth Armband Pulse Monitor
is there to hopefully keep you on track with your goals.
Although it doesn't necessarily track your heart rate, but your
pulse rate
instead through the use of an
arm-strap monitor
, it's a bit easier to use on a daily basis than some of the Bluetooth heart rate monitors out there that are strapped around your chest. With its water resistant properties and soft feeling Velcro material, it feels rather comfy around the forearm – though, it
tightens
a bit if you flex your arm. On the front of the Scosche Rhythm Bluetooth Armband Pulse Monitor, there are three buttons that turns on the device, lowers the volume of your music player, and another that increases it. As much as we appreciate them, it would've been nice to see dedicated playback controls too.
Overall, the unit itself is practical to use and it's more ideal to use with intensive workouts than chest strapped monitors. However we're not too fond of the
Scosche myTREK app
that's specifically designed to work in conjunction with it. Sure, it'll try and "
motivate
" you with its robotic toned voice, which is far from motivating, but the lack of a custom layout is sorely missed. Specifically, it's just bothersome that we have to squint to see how many calories we've burned and the amount of miles we've completed on our smartphone – whereas the active pulse rate is more than visible. Also, we notice that the Scosche Rhythm Bluetooth Armband Pulse Monitor can be a bit
wonky
with its tracking, since it takes a bit of time to register our pulse rate at startup. Worst yet, we've experienced it totally giving us wrong/inaccurate pulse rate information in the middle of a workout.
Aside from the random issues we have with it not registering the proper pulse rate, it's still nice that we're given detailed information and charts regarding our workout – albeit, it's not as extensive as others. All in all, some will appreciate the that it's not as constricting in feel versus chest-strapped monitors, but then again, it's priced a tiny bit higher at
$99.99
– whereas basic chest strapped heart rate monitors start as low as $40. Still, it's
rechargeable
, which helps in knowing you won't have to replace batteries.
Also check out our Wahoo Fitness Blue HR hands-on