Wahoo Fitness Blue HR hands-on
1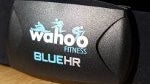 Are you a fitness buff? Like to the point that statistics can help enable you to further enhance your workout routines? Well, if so, you might want to take interest in the
Wahoo Fitness Blue HR
, which is none other than a
heart rate monitor
that harnesses the power of
Bluetooth Smart
ready devices – like the iPhone 4S.
Dubbed as the world's first Bluetooth Smart heart rate monitor, the Blue HR is worn around your chest, where two strips on both sides of the device monitors your heart rate. Thanks to its adjustable straps, it's able to stay firmly in place, even after a sweaty workout session. At first glance, one might wonder how a tiny thing like the Blue HR is able to track such information, especially when it seems to be nothing more than a plastic shell with its logo facing front and center. To tell you the truth, it's
powered by a single CR2032 3V battery
! Seeing that the iPhone 4S is equipped with
Bluetooth 4.0
, the Blue HR's Bluetooth Smart technology enables it to have
longer battery life and enhanced range
.
One of the great things about the Blue HR, is the fact that it's compatible to work with several third party fitness apps such as MapMyFitness, RunKeeper, 321Run, Runmeter, and MotionX. For our quick testing, we used the
Wahoo Fitness App
that's available free to download through the App Store. Initially, we were a bit puzzled as to how to pair up the Blue HR with our iPhone 4S, but seeing that the handset features Bluetooth 4.0, the app already recognizes that the Blue HR is in proximity and automatically connects when the app is launched. As for the app itself, it's decent enough for most things, as it provides relevant fitness information such as calories burned, heart rate, and pace rate. Seeing that it records our heart rate as we're walking and running, it essentially provides for
more accuracy with calories burned
.
Most people would question having to pay
$79.99
for the Wahoo Fitness Blue HR, since there are some apps out there that provide relevant fitness data. However, seeing that it also measure your heart rate, it has the advantage of producing the most precise results each time. Therefore, if you're a diehard fitness guru, you'll definitely want to consider this one.