Samsung's new Galaxy A series: what are the differences?
14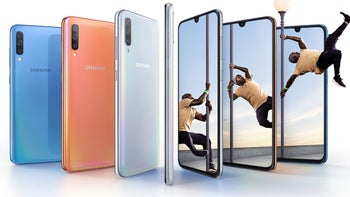 Samsung has a new lineup of affordable phones that shakes things up with quite a few cool new features including the first ever true edge-to-edge screen on a Samsung phone, but there is a bunch of phones in the series and it's easy to get lost in the model numbers.
We're here to clear things up about the Samsung Galaxy A series.
First things first, the name of the new lineup is Samsung A series and the phones you will see listed below will completely replace the Samsung J series of affordable phones.
Samsung Galaxy A series comparison:
So, here is a quick look at the Galaxy A series, starting from the most expensive and most exciting one, the A80, and going down to the most affordable, the dirt-cheap A10:
Galaxy A80
It has one trick that no other Samsung phone, even the premium S10 series, have: a true edge-to-edge display with no notch, no interruptions and a record screen-to-body ratio. How did Samsung do it? With a very cool trick: a camera system that lifts up and swivels, so the rear cameras of the phone can also point forward and you can use them for your selfies. Here is how it all works:
It looks cool and seems quite fast, but will it withstand the test of time (and the test of accidentally dropping your phone)? We don't know the answer to that yet.
Galaxy A70
But for all else, the A70 actually offers more: it has a much larger, 4500mAh battery that will last you longer and unlike the A80, the A70 supports expandable storage via microSD cards.
Galaxy A50
Dropping to mid-range prices, the Galaxy A50 still brings a large AMOLED display with a tiny notch, a huge, 4000mAh battery, and a triple camera system.
On paper, this phone looks like it has a very well-balanced set of features and will please many people who don't want to shell out extra cash. It also comes with an in-screen optical fingerprint reader, another innovative feature that you won't find on most rivals.
Galaxy A40
The Galaxy A40 is a smaller phone that does not have a dedicate depth camera, so it's not quite as good in capturing portrait shots with a blurred background and its battery size is on the small side, but you still get an AMOLED screen, a good amount of storage and the Samsung One UI experience.
Galaxy A30
Further down in price, we have another big phone with a big battery, but slightly less capable camera, the Galaxy A30.
Galaxy A20
And when you go even further down in price with the Galaxy A20, you see that the screen resolution drops to just 720p, so you will see some pixelization on this display. With less RAM and a slower processor, this phone won't be quite as zippy as the more expensive ones too. In terms of camera, the A20 also does not have a depth camera or an ultra-wide one, and instead just has the main camera and the selfie shooter.
Galaxy A10