Samsung's chipmaking business could knock it out of the park as Qualcomm & Nvidia turn to its 14nm production process
44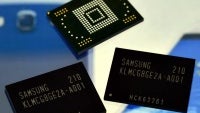 Thanks to working out the 14nm FinFET production process before its chipmaking competitors had finished deploying their 16nm systems, Samsung might become the meanest, leanest mobile silicon slinger around. In addition to being a long-standing Apple manufacturing partner, Samsung has been enjoying attention from the likes of Qualcomm and NVIDIA, industry sources say.
Reportedly, Q & N are looking to offset a decline in application processor prices by using the latest available technology at a lower production cost.
14nm processors offer better power economy
and are produced more efficiently than 20nm or 16nm ones, Hence, we might be seeing Samsung mass-producing and supplying chips to Apple, Qualcomm, and Nvidia from the second quarter of 2015. As Samsung is pulling chip-making rival TSMC's business from under the table, analysts are projecting "stellar performance" for its semiconductor division. Last year, Sammy's processor arm racked up fourth quarter financial results that equal those of two of its other divisions combined. It looks like things will only escalate from here.
We'll be seeing how those 14nm chips
fare in the battlefield
with the introduction of the Samsung Galaxy S6, which is, reportedly, the first smartphone based exclusively on the company's Exynos 7420 64-bit octa-core SoC. Meanwhile, the competition is
going with Qualcomm processors as usual
.