Samsung's Ultimate Upgrade promotion offers a $100 rebate for 64GB Galaxy S6 or S6 edge purchases
12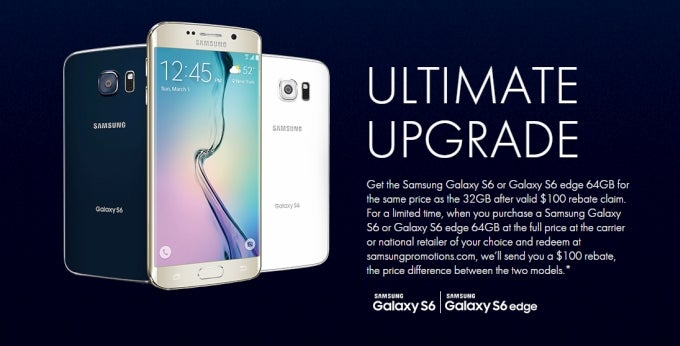 Yesterday, we told you that
T-Mobile is offering a free memory upgrade for Galaxy S6 and S6 edge
buyers, letting users purchase the 64GB models of the two flagships at the same price as the 32GB models. Today Samsung launched a US-wide promotion called Ultimate Upgrade, offering a $100 rebate for customers who purchase the 64GB models of the
Galaxy S6
and
S6 edge
.
The goal behind the Samsung 'Ultimate Upgrade' promotion is to cover the price difference between the 32GB and the 64GB versions of the Galaxy S6 and Galaxy S6 edge. Unlike T-Mobile's promotion, the Samsung Ultimate Upgrade campaign is available to all US customers who purchase a 64GB version of the Galaxy S6 and S6 edge at full price. Although this promotion doesn't cover on-contract smartphones, it's certainly a good deal if you were planning to get the Galaxy S6 or the Galaxy S6 edge at full price.
Although this is undeniably a good deal, it looks like customers will have to jump through a few hoops in order to get the $100 rebate. After purchasing a 64GB S6 or S6 edge at full price, customers will have to submit the details of the purchase to Samsung, and the company will send a $100 check to all qualifying participants.
Samsung's Ultimate Upgrade promotion is valid for purchases made until July 5, with the company imposing a couple of limits, such as one rebate per customer, and three rebates per household. Make sure to read the terms and details of the promotion by heading over to the source link below.