Samsung's CES entourage to include the CEO, 7" AMOLED tablet could make a cameo
0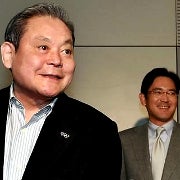 Samsung is prepping for a splash at the CES 2012 expo, which starts next week. Besides a rich team of managers, the Samsung Group CEO Lee Kun-hee himself will be leading the delegation, accompanied by the next of kin in the dynasty. His son has been present at each CES since 2007, while the father paid a social visit last at the 2010 edition.
While most of the company's focus is likely to be on Smart TVs with Android, last year we saw the unveiling of the Infuse 4G and 4G LTE devices for Verizon, plus Samsung Tab slates, so this year could bring interesting announcement from Samsung's mobile device realm as well.
Samsung Galaxy Tab 7.7
as the first OLED tablet, but the 7" panel has
400 nits of brightness
, which is quite a bit more than what the Tab 7.7 offers.