Samsung might have broken smartphone sales record, outsold Apple iPhones by 20 million in Q2?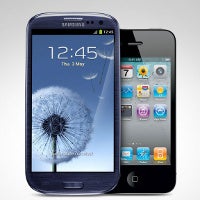 Samsung might turn out to be the
big winner in the second quarter of 2012
, selling much more smartphones than Apple and beating Nokia in feature phone sales by an even wider margin than in the last quarter, according to estimates by analysts including companies like JP Morgan, Bank of America and Citi.
Samsung is expected to have also broken the quarterly smartphone sales record. With 50 million Samsung smartphones, the company widens the gap with Apple to around 20 million as on average analysts expect Apple to sell around 30.5 million iPhones in Q2 2012. Also, the Korean company is believed to have outsold Nokia feature phones by a hefty 15.7 million, widening the gap which only last quarter stood at just 3.4 million.
"Samsung is expected to be the smartphone hero in the second quarter," IDC analyst Francisco Jeronimo said. "We are also expecting to see the biggest smartphone volumes ever shipped from one single vendor in one quarter, driven by strong demand of the Galaxy portfolio, particularly the Galaxy S II and S III."
If true, this would mean that Samsung is really conquering the empty space Nokia leaves in both smartphones and feature phones.
At the same time, the two big Chinese phone makers, ZTE and Huawei, are quietly getting some serious traction. Now, once again, these are just predictions - the actual numbers will be coming in the next few days, so stay tuned.
source:
Reuters