Samsung launches Galaxy S III teaser - countdown timer ends tomorrow
98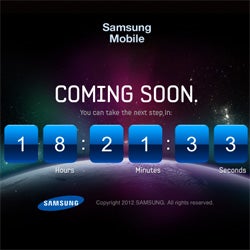 The Samsung Mobile Facebook page was the site of a somewhat cryptic post a few hours ago. The post simply reads "Destination: tgeltaayehxnx".
First of all, if you reorder those letters, you come up with "The Next Galaxy". Also, if you simply add a www. to the beginning and a .com to the end, you get taken to a Samsung Mobile site that reads, "Coming Soon. You can take the next step in:" followed by a countdown timer.
The countdown ends tomorrow at approximately 7 a.m. Eastern time. Will we be waking up tomorrow to the launch of the Samsung Galaxy S III? Who knows?
As we previously reported,
Samsung is running a tight ship
when it comes to Galaxy S III details. It has been assumed that this handset would launch on May 3rd after Samsung sent out
invites to an event in London
for that day that said, "Come and need the next Galaxy," but now with the addition of this countdown timer that is slowly ticking away, it's really unclear what Samsung is planning.
Considering, it says "You can take the next step," we're guess that a safe bet may be that Samsung might be starting pre-orders tomorrow, but only time will tell.
Thanks to all of you that sent this in!
source:
Samsung Mobile (1)
(2)