Samsung has an 8.9-inch Galaxy Tab in the works
1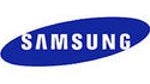 Samsung may already have a 7-inch and a soon-to-be-released 10.1-inch version of their Android-powered Galaxy Tab, but that won't stop them from making an 8.9-inch version that may be available in the coming months.
Word on the street is that Samsung is prepping this mid-sized tablet for a launch that could be as early as next month and almost certainly within the first half of the year. This news was reported by the Yonhap News Agency operating out of Korea after they spoke with a Samsung spokesperson.
Not much is known about this device, such as what OS will it run on? Will we see another blown up version of Android 2.2 Froyo like we did in the 7-inch version or will this device come packed with 3.0 Honeycomb? Tell us what you think in the comments below.
source:
Engadget