Samsung announces the Galaxy Core, coming this month
54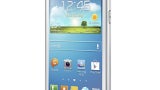 Samsung simply loves to flood the market with its devices! Even if it already has a good number of models in a particular segment of the market, it'll just continue launching more and more just to make sure that the competition's offerings get lost in the sea of Samsungs.
OK, we don't know if that's really the strategy behind Samsung's actions, but today's news from Seoul certainly doesn't refute it... The company has officially announced yet another Android smartphone, the Galaxy Core, and even though this model will not treat you to the very best of Android, it'll certainly deliver all the core goodies that the platform and Samsung can offer.
The Samsung Galaxy Core will be a low- to mid-range model with a 4.3" WVGA display, 1.2GHz dual-core processor (possibly a MediaTek or something like that), 5MP camera and Android 4.1 Jelly Bean. One of its more interesting features is that it will come in a Dual SIM variant, where the two SIM card slots will be able to remain active simultaneously.
The Galaxy Core will come with the lovely TouchWiz Nature user interface and all of its useful features like Smart Stay, S Voice and Smart Alert, with the last one alerting you to missed calls and messages once you pick the phone up. Neat stuff!
Users who are willing to purchase the dual-SIM version of the Samsung Galaxy Core will be able to do so as soon as this month, while those who'd prefer the single-SIM variant will have to wait until July. The company hasn't announced the markets where the Galaxy Core is going to launch, but Europe and Asia are safe bets.
source:
Samsung