Samsung S5620 Monte gets snapped up
This article contains unofficial information.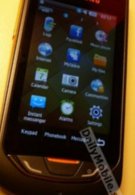 We have to admit that Samsung really puts out a decent amount of touchscreen phones – with their latest one being captured in various poses. The Samsung S5620 Monte may stray a little bit from the path of what we've witnessed with their devices here in the US, but it does have a slightly different look. Up until now, all the information known about the handset was its
Wi-Fi certificate
being made known a couple weeks back. Fortunately, someone was able to snap up a decent amount of high quality images of the TouchWiz powered phone; regrettably Bada is nowhere to be found. It's speculated to pack 3G HSDPA, 3.0" display, Wi-Fi, GPS, microSD card slot, 3.5mm headset jack, and roughly about 200MB of onboard storage. Let's hope it manages to separate itself from the recent offerings available to US wireless carriers – no concrete information concerning which countries will see the handset make its appearance or pricing.
Samsung Monte S5620 Preliminary Specifications
via
Daily Mobile