Samsung Hennessy flip-phone listed at $800 on some Chinese sites
16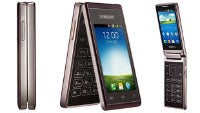 The
Samsung Hennessy
is the first flip-phone to garner any real attention in close to 7 years, but that's mostly because flip-phones are basically relegated to grandparents in the U.S. But, flip-phones are still pretty big in China, which is why Samsung has made the new Android-powered Hennessy. Of course, you'd be surprised at how much this device could cost.
Apparently, there are some Chinese websites that are listing the device at 4999 Yuan, which is about $800. That price would be considered a ripoff if you were planning to buy any top of the line device off-contract. But for a flip-phone with a 3.3-inch 320x480 display, 1GB of RAM, a quad-core processor, 5MP camera, 1500mAh battery, and Android 4.1, that could be considered highway robbery.
Of course, there is almost no chance that the Hennessy will make it out of Asian markets, so we don't really need to worry about the price here in the U.S. Still, if you were considering grabbing one unlocked as a joke, you might want to reconsider.