Samsung Galaxy Tab 10.1 available again in Germany
19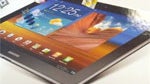 Back in August we reported that
sales of the Samsung Galaxy Tab 10.1 were halted in Germany
due to patent infringement claims from Apple. Apple claimed that the physical design of Samsung's tablet was too close to the look of the iPad.
Samsung has redesigned the tablet and re-released it in Germany as the Samsung Galaxy Tab 10.1N. Cyberport, a German electronics retailer, is already taking orders for the white 16GB model of the tablet on its website for €549.
The picture below shows the old model at the bottom and the new Galaxy Tab 10.1N on the top. It looks as though the major difference is the metal trim on the new device wraps around further in the front. At this point in time, it looks as if Samsung is making the minimal changes necessary to get its popular Android-based tablet back on the shelves in time for the holiday shopping season.
In the coming weeks we shall see if the additional metal detailing will differentiate Samsung's black, rounded rectangle from Apple's black, rounded rectangle enough to keep Apple from pursuing another injunction.
source:
UnwiredView