Samsung Galaxy Tab 10.1 European sales paused by German court, Samsung calls foul
36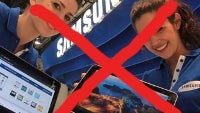 Oh, the horror! Following the
patent bickering with Apple
, Samsung has been banned from selling its Galaxy Tab line in the EU for now by a German court. Netherlands is the only country where it will be legal to sell Samsung's best Android slate across the European Union.
A similar thing happened in Australia recently, where the first reports actually pegged Samsung as
voluntarily stopping the sales and marketing of the Galaxy Tab 10.1
, until the courts issue a statement on Apple's claims.
Samsung's Director of PR Kim Titus reacted immediately:
"
Samsung is disappointed with the court's decision and we intend to act immediately to defend our intellectual property rights through the ongoing legal proceedings in Germany and will continue to actively defend these rights throughout the world.
The request for injunction was filed with no notice to Samsung, and the order was issued without any hearing or presentation of evidence from Samsung.
We will take all necessary measures to ensure Samsung's innovative mobile communications devices are available to customers in Europe and around the world.
This decision by the court in Germany in no way influences other legal proceedings filed with the courts in Europe and elsewhere.
", he comments.
The case is being reviewed in the Regional Court of Dusseldorf, a place where everyone uses iPhones. We kid, but due to its decisions being valid across the European Union, the ban only spares the Netherlands for some reason - in every other EU country the Samsung distributors will have to place a hold on the Galaxy Tab 10.1 sales campaigns.
source:
Reuters
Recommended Stories