Samsung Galaxy S9+ vs Galaxy S8+ vs Pixel 2 XL: Specs comparison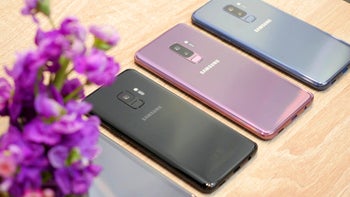 Samsung just announced the Galaxy S9, its latest 'big thing' that has to build upon on the solid foundation established by the Galaxy S8 started a year ago - great design, intriguing features, no-compromise performance, and meaningful innovation. Samsung is also showing that it's keeping an ear close to the ground and listens to the feedback it users have come forth with, which is always a good sign.
This year Samsung has differentiated the Galaxy S9+ quite a bit. Unlike previous years when the battery was mostly the same, the Galaxy S9+ has a dual-camera setup at the back, which allows the device to do fancy photography-related tricks. Aside from that, the two are quite similar in overall specs, and the Galaxy S9+ solidifies itself as the better new handset.
But how does it compare against the S8+ and the Pixel 2 XL? Let's find out!
Super AMOLED
P-OLED
Super AMOLED
HDR support, Scratch-resistant glass, Ambient light sensor, Proximity sensor
Scratch-resistant glass, Ambient light sensor, Proximity sensor
HDR support, Scratch-resistant glass, Ambient light sensor, Proximity sensor
Qualcomm Snapdragon 835 MSM8998 (10 nm)
Qualcomm Snapdragon 835 MSM8998 (10 nm)
Qualcomm Snapdragon 845 SDM845 (10 nm)
Octa-core, 2450 MHz, Kryo 280, 64-bit
Octa-core, 2350 MHz, Kryo 280, 64-bit
Octa-core, 2800 MHz, Kryo 385, 64-bit
Adreno 540
Adreno 540
Adreno 630
64GB
128GB, not expandable
64GB
Android (9.0 Pie, 8.0 Oreo, 7.0 Nougat), Samsung One UI
Android (11, 10, 9.0 Pie, 8.1 Oreo, 8.0 Oreo)
Android (10, 9.0 Pie, 8.0 Oreo), Samsung One UI
Qualcomm Quick Charge 2.0
USB Power Delivery
Qualcomm Quick Charge 2.0, Samsung Adaptive Fast Charging
34.00 hours
the

average

is 11 h (660 min)
35.00 hours
the

average

is 11 h (660 min)
4.3 days (103 hours)
the

average

is 29 days (688 h)
14.2 days (342 hours)
the

average

is 29 days (688 h)
24.00 hours
the

average

is 0 h (0 min)
3G: 14 hours; LTE: 16 hours; Wi-Fi: 15 hours
3G: 13 hours; LTE: 15 hours; Wi-Fi: 15 hours
Single camera
Single camera
Dual camera
12.2 MP (OIS, Laser and PDAF, CMOS image sensor)
Aperture size: F1.7; Focal length: 26 mm; Sensor size: 1/2.55"; Pixel size: 1.4 μm
Aperture size: F1.8; Focal length: 27 mm; Sensor size: 1/2.6"; Pixel size: 1.4 μm
Aperture size: F1.5/F2.4; Focal length: 26 mm; Sensor size: 1/2.55"; Pixel size: 1.4 μm
12 MP (Telephoto, OIS, Autofocus)
Optical zoom: 2.0x; Aperture size: F2.4; Focal Length: 52 mm; Sensor size: 1/3.6"; Pixel size: 1 μm
3840x2160 (4K UHD) (30 fps), 2560x1440 (QHD), 1920x1080 (Full HD) (60 fps), 1280x720 (HD) (240 fps)
3840x2160 (4K UHD) (30 fps), 1920x1080 (Full HD) (120 fps), 1280x720 (HD) (240 fps)
3840x2160 (4K UHD) (60 fps), 1920x1080 (Full HD) (240 fps), 1280x720 (HD) (960 fps)
HDR, Time-lapse video, Hyperlapse, Continuous autofocus, Object tracking, Picture-taking during video recording, Video light, EIS, Video calling, Video sharing
OIS, EIS, Video calling, Video sharing
HDR, Time-lapse video, Hyperlapse, Continuous autofocus, Object tracking, Picture-taking during video recording, EIS, Video calling, Video sharing
8 MP
8 MP
8 MP
2560x1440 (QHD) (30 fps)
1920x1080 (Full HD) (30 fps)
2560x1440 (QHD) (30 fps)
6.28 x 2.89 x 0.32 inches (159.5 x 73.4 x 8.1 mm)
6.22 x 3.02 x 0.31 inches (157.9 x 76.7 x 7.9 mm)
6.22 x 2.91 x 0.33 inches (158.1 x 73.8 x 8.5 mm)
6.10 oz (173.0 g)
the

average

is 6 oz (171 g)
6.17 oz (175.0 g)
the

average

is 6 oz (171 g)
6.67 oz (189.0 g)
the

average

is 6 oz (171 g)
Back: Glass (Corning Gorilla Glass 5); Frame: Aluminum
Back: Aluminum, Glass
Back: Glass (Corning Gorilla Glass 5); Frame: Aluminum
Water, Dust; IP68
Water, Dust; IP67
Water, Dust; IP68
Iris scanner, 2D Face unlock, Fingerprint (touch)
Fingerprint (touch)
Iris scanner, 2D Face unlock, Fingerprint (touch)
Notification light
Notification light