Samsung Galaxy S9 vs Galaxy S8 vs Apple iPhone X: Specs comparison
3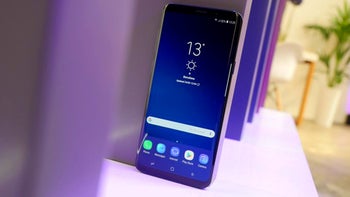 Samsung just announced the Galaxy S9, its latest 'big thing' that has to build upon on the solid foundation established by the Galaxy S8 started a year ago - great design, intriguing features, no-compromise performance, and meaningful innovation. Samsung is also showing that it's keeping an ear close to the ground and listens to the feedback it users have come forth with, which is always a good sign.
Now, the new Galaxy S9 is out, but a rather important new question arises - is it actually a worthy improvement over the Galaxy S8 and should you necessarily upgrade if you're happy with the previous generation of the flagship? The answer to this question might not be as obvious as it might seem at first. In order to help just about anyone interested in such a comparison, one of the easiest things we can do is compare the two devices pound for pound.
While we are at it, it will be also quite interesting to compare the Galaxy S9 and the iPhone X while we are at it. After all, it's no other but Apple that's Samsung's biggest rival on the high-end flagship market, and it's only natural that consumers will inevitably be faced upon a choice between the new Galaxy S9 and Apple's iPhone X in a few weeks' time.
Super AMOLED
OLED
Super AMOLED
HDR support, Scratch-resistant glass, Ambient light sensor, Proximity sensor
HDR support, Pressure-sensitive, Oleophobic coating, Scratch-resistant glass, Ambient light sensor, Proximity sensor
HDR support, Scratch-resistant glass, Ambient light sensor, Proximity sensor
Qualcomm Snapdragon 835 MSM8998 (10 nm)
Apple A11 Bionic APL1W72 (10 nm)
Qualcomm Snapdragon 845 SDM845 (10 nm)
Octa-core, 2350 MHz, Kryo 280, 64-bit
Hexa-core, 2390 MHz, Monsoon and Mistral, 64-bit
Octa-core, 2800 MHz, Kryo 385, 64-bit
Adreno 540
Apple 3-core GPU
Adreno 630
64GB
256GB, not expandable
64GB
Android (9.0 Pie, 8.0 Oreo, 7.0 Nougat), Samsung One UI
iOS (15.x, 14.x, 13.x, 12.x, 11.x)
Android (10, 9.0 Pie, 8.0 Oreo), Samsung One UI
Qualcomm Quick Charge 2.0
USB Power Delivery
Qualcomm Quick Charge 2.0, Samsung Adaptive Fast Charging
30.00 hours
the

average

is 11 h (660 min)
31.00 hours
the

average

is 11 h (660 min)
13.4 days (321 hours)
the

average

is 29 days (688 h)
3.4 days (82 hours)
the

average

is 29 days (688 h)
21.00 hours
the

average

is 0 h (0 min)
3G: 12 hours; LTE: 14 hours; Wi-Fi: 14 hours
3G: 11 hours; LTE: 12 hours; Wi-Fi: 14 hours
88.00 hours
60.00 hours
51.00 hours
17.00 hours
13.00 hours
17.00 hours
Single camera
Dual camera
Single camera
12 MP (Sapphire crystal lens cover, OIS, PDAF, CMOS image sensor, BSI sensor)
Aperture size: F1.7; Focal length: 26 mm; Sensor size: 1/2.55"; Pixel size: 1.4 μm
Aperture size: F1.8; Focal length: 28 mm; Sensor size: 1/3"; Pixel size: 1.22 μm
Aperture size: F1.5/F2.4; Sensor size: 1/2.55"; Pixel size: 1.4 μm
12 MP (Telephoto, Sapphire crystal lens cover, OIS, PDAF, CMOS image sensor, BSI sensor)
Optical zoom: 2.0x; Aperture size: F2.4; Focal Length: 52 mm; Sensor size: 1/3.4"; Pixel size: 1 μm
3840x2160 (4K UHD) (30 fps), 2560x1440 (QHD), 1920x1080 (Full HD) (60 fps), 1280x720 (HD) (240 fps)
3840x2160 (4K UHD) (60 fps), 1920x1080 (Full HD) (240 fps), 1280x720 (HD) (30 fps)
3840x2160 (4K UHD) (60 fps), 1920x1080 (Full HD) (240 fps), 1280x720 (HD) (960 fps)
HDR, Time-lapse video, Hyperlapse, Continuous autofocus, Object tracking, Picture-taking during video recording, Video light, EIS, Video calling, Video sharing
OIS, Time-lapse video, Continuous autofocus, Video light, Video calling, Video sharing
HDR, Time-lapse video, Hyperlapse, Continuous autofocus, Object tracking, Picture-taking during video recording, Video calling, Video sharing
8 MP
7 MP
8 MP
2560x1440 (QHD)
1920x1080 (Full HD) (30 fps)
2560x1440 (QHD) (30 fps)
5.86 x 2.68 x 0.31 inches (148.9 x 68.1 x 8.0 mm)
5.65 x 2.79 x 0.30 inches (143.6 x 70.9 x 7.7 mm)
5.81 x 2.70 x 0.33 inches (147.7 x 68.7 x 8.5 mm)
5.47 oz (155.0 g)
the

average

is 6 oz (171 g)
6.14 oz (174.0 g)
the

average

is 6 oz (171 g)
5.75 oz (163.0 g)
the

average

is 6 oz (171 g)
Back: Glass (Corning Gorilla Glass 5); Frame: Aluminum
Back: Glass; Frame: Stainless steel
Back: Glass (Corning Gorilla Glass 5); Frame: Aluminum
Water, Dust; IP68
Water, Dust; IP67
Water, Dust; IP68
Iris scanner, 2D Face unlock, Fingerprint (touch)
3D Face unlock
Iris scanner, 2D Face unlock, Fingerprint (touch)