Samsung Galaxy Note5 "inboxing / unboxing" video lets us take a look at what's inside the phone
24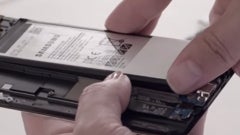 Last week, Samsung released an official
Galaxy S6 edge+ inboxing/unboxing video
, showing how the new handset is being assembled, packaged, and finally unboxed by customers. Today, Samsung released a similar video, but this time it's showing us an inboxing/unboxing of the
Galaxy Note5
(which, as you may already know, was announced at the same time with the Galaxy S6 edge+, and is already available to buy in various markets around the world).
Save for the regular 5.7-inch Quad HD display, instead of a dual-curve one, the Galaxy Note5 isn't too different from the S6 edge+: the battery, fingerprint scanner, cameras (front and rear), wireless charging coil, and other components are assembled in the same way. Of course, the Note5 also has an S Pen stylus, which is a nice addition for users who want to quickly jot down notes, or draw on their smartphone screen.
We've already
reviewed the Samsung Galaxy Note5
, so you know what to do if you want to find out more details about it. What do you think of the new Note thus far? Have you bought one, or do you plan to get one at some point?