See the innards of Samsung's Galaxy S6 edge+ in this "inboxing / unboxing" video
20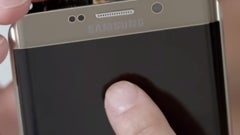 Most of the time, unboxing videos are not that exciting, because people usually already know what to expect when a phone or another device is unboxed. With that in mind, Samsung today posted a
Galaxy S6 edge+
"inboxing/unboxing" video.
The inboxing part is particularly interesting, because it doesn't refer to just placing the S6 edge+ into a box. It's also showing us how the new Galaxy is being assembled.
As you'll see in the video - embedded below - you can take a look at how the extra-large S6 edge comes to life piece by piece: motherboard, battery, fingerprint scanner, curved display, cameras, wireless charging coil, metal frame, and - finally - the glass-made rear shell. Then the handset is packaged, and sent to end users to unbox it and power it on for the first time.
Already available to buy in lots of markets around the world, the Samsung Galaxy S6 edge+ is pretty much an enlarged variant of the
S6 edge
that was released back in April (as you may remember, the regular S6 edge was also
unboxed in an unusual way
). You can - and should - read our
Galaxy S6 edge+ review
to find out more about the new smartphone. And, if you want, you could also check out our very own
Galaxy S6 edge+ unboxing
.