The original Samsung Galaxy Fold is getting some Galaxy Z Fold2 features
0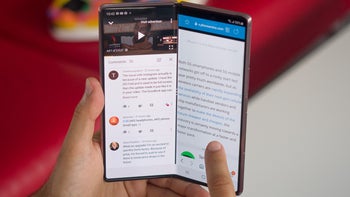 Samsung
confirmed recently a new software update will be rolled out in the United States to bring important features of the
Galaxy Z Fold2
to the original
Galaxy Fold
. The former is Samsung's superior take on a foldable smartphone and it packs improved productivity capabilities, not just better overall design.
Now Samsung wants to bring the original
Galaxy Fold
on par with its most recent foldable smartphone, the
Galaxy Z Fold2
, at least in terms of software. That being said, if you own a Galaxy Fold, here is what you should expect to get in the next update.
Edge
Panel, which combines the Multi-Window Tray with Edge Panel for improved user experience. Furthermore, the layout of the Multi-Active Window can now be arranged horizontally, allowing for more flexibility for those who often multitask.
Then, Samsung revealed that the update will enable Galaxy Fold users to connect the phone wirelessly to a SmartTV via the Samsung DeX icon in the quick panel. Once the devices are connected, you'll be able to customize the second screen as you wish, using features like screen zoom and various font size options.
Other new features coming to the Galaxy Fold starting this week include Auto framing, Capture View Mode, Dual Preview, and Rear Cam Selfie. Finally, the update will also add the option to directly share the password of the Wi-Fi you are connected to trusted Galaxy devices near you. You'll also be able to see the speed of nearby connections (very fast, fast, normal, slow).
Although Samsung
announced in a blog post
that the update will be rolling out in the US this week, the South Korean company told The Verge that all the new features are coming to Galaxy Fold users all over the world this month.