Samsung Galaxy E7 vs Galaxy E5 vs Galaxy S5: intergalactic specs comparison
7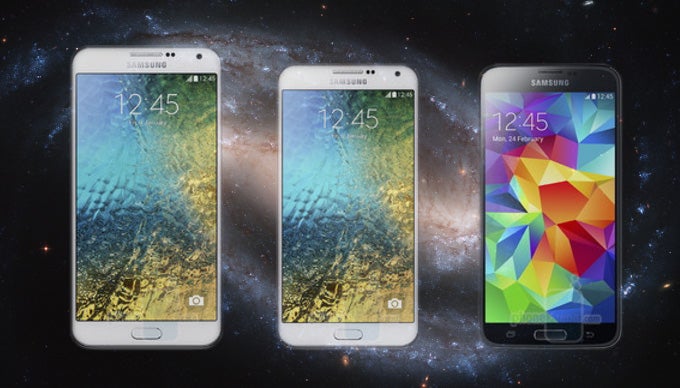 Just as we told you a couple of weeks ago, Samsung has been secretly working on a new mid-range smartphone lineup for 2015 over the past few months or so. Well,
today Samsung removed the shroud of mystery
and revealed the Galaxy E family, which consist of the Samsung Galaxy E5 and Galaxy E7, two predominantly mid-ranged devices that are cheaper alternatives to the higher-positioned Galaxy A5 and Galaxy A7.
Skipping through the specs sheets of both new members of the broad galaxy of Samsung devices reveals their nitty-gritty - the 720p Super AMOLED displays and the quad-core chipsets running at 1.2GHz are definitely not made of "flagship material", even as per last year's standards.
Thus, it won't be fair quite fair, but we simply have to put them against Samsung's battle-tested Galaxy S5 veteran, which is gradually starting to get a little long in the tooth. That's it, we said it - check out our full-blown specs comparison between the S5 and some of its newest cousins, the E7 and the E5
Super AMOLED
Super AMOLED
Super AMOLED
Scratch-resistant glass, Ambient light sensor, Proximity sensor
Scratch-resistant glass, Ambient light sensor, Proximity sensor
Scratch-resistant glass, Ambient light sensor, Proximity sensor
Qualcomm Snapdragon 801 MSM8974-AC (28 nm)
Qualcomm Snapdragon 410 8916
Qualcomm Snapdragon 410 8916
Quad-core, 2500 MHz, Krait 400, 32-bit
Quad-core, 1200 MHz, ARM Cortex-A53
Quad-core, 1200 MHz, ARM Cortex-A53
Adreno 330
Adreno 306
Adreno 306
Android (6.0 Marshmallow, 5.1 Lollipop, 5.0 Lollipop, 4.4.4, 4.4.2), Samsung TouchWiz UI
Android (5.1 Lollipop, 4.4.4), Samsung TouchWiz UI
Android (5.0 Lollipop, 4.4.4), Samsung TouchWiz UI
21.00 hours
the

average

is 17 h (996 min)
16.2 days (390 hours)
the

average

is 20 days (472 h)
21.00 hours
the

average

is 19 h (1110 min)
18.00 hours
the

average

is 19 h (1110 min)
16.00 hours
the

average

is 19 h (1110 min)
67.00 hours
88.00 hours
71.00 hours
13.00 hours
14.00 hours
12.00 hours
Single camera
Single camera
Single camera
8 MP (Autofocus, CMOS image sensor)
Aperture size: F2.2; Focal length: 31 mm; Sensor size: 1/2.6"; Pixel size: 1.12 μm
3840x2160 (4K UHD) (30 fps), 1920x1080 (Full HD) (60 fps)
1920x1080 (Full HD) (30 fps), 1280x720 (HD), 640x480 (VGA)
1920x1080 (Full HD) (30 fps)
HDR, Continuous autofocus, EIS, Video calling, Video sharing
Video calling, Video sharing
Video calling, Video sharing
2.1 MP
5 MP
5 MP
1920x1080 (Full HD)
1920x1080 (Full HD)
5.59 x 2.85 x 0.32 inches (142 x 72.5 x 8.1 mm)
5.94 x 3.03 x 0.28 inches (151 x 77.2 x 7.3 mm)
5.57 x 2.76 x 0.29 inches (141.6 x 70.2 x 7.3 mm)
5.11 oz (145.0 g)
the

average

is 6.5 oz (184 g)
4.97 oz (141.0 g)
the

average

is 6.5 oz (184 g)
4.94 oz (140.0 g)
the

average

is 6.5 oz (184 g)
Back: Plastic
Back: Plastic; Frame: Plastic
Back: Plastic; Frame: Plastic
Touch sensitive control keys, Interchangeable covers, Notification light