Samsung GALAXY Note to appear at T-Mobile?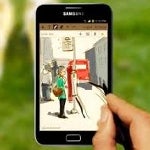 At one time, there had been some speculation that the
Samsung GALAXY Note
would be taking it's
5.3
inch display
and head to Verizon as the Samsung GALAXY Journal
. Outside of a petition started by some of Big Red's customers,
pleading for the device to be launched with the Verizon brand
, nothing more has been heard about a Verizon version of this phone. However, a User Agent Profile string points to the phablet coming to T-Mobile.
order of the numbers
here as a smartphone's resolution would be listed exactly like this, while the resolution for a tablet would be listed as 1280 x 800. On the other hand, the Samsung GALAXY Tab 10.1 tablet's resolution was listed as 800 x 1280, so perhaps this is not the solid piece of evidence that we would like to see.
What might be more compelling evidence is that the model listed on the User Agent Profile, SGH-T879, is called a phone by the
Wi-Fi Alliance
and the
Bluetooth SIG
and we would imagine that these groups know the difference between a phone and a tablet. And perhaps the best evidence is that the User Agent Profile read exactly the same for the AT&T variant of the Samsung GALAXY Note.
Any T-Mobile customers out there already penciling in the Samsung GALAXY Note as their next handset?
source:
TmoNews